I had a serious sweet sugar craving today and nothing less than a fix of the Indian version of halva would do. Even after a packed day making 5 different curries all sealed and wrapped for the freezer, a two-hour drive around the city, half of it just sat in stationary traffic and a well needed visit to Sefton Lake, this evening was me time, and halva time.
This is one of the earliest desserts I can remember my mum cooking for her possie of friends. We were not allowed to make this until much later as we probably would have had third degree burns with the splash of kettle hot water against the fudgy semolina. She didn't trust us and rightly so!
What is halva. Halva means a lot of things to a lot of different people. I told my youngest I was making halva today, he said," oh you mean the sweets we have at madrasa", the Arabs have robbed (is that too harsh, oh well never mind!) the word and apparently it simply means sweets in the Arabic dictionary. The Arabs will dispute this by the way, the Indians will say it's ours, the Turks, well they're Turks (one of my besties is a Turk, she knows I'm winding you guys up) and the Greeks will try to take it back to the Byzantium times. This is an ongoing dispute, but I'll side with the Indians as today's recipe is one from the motherland.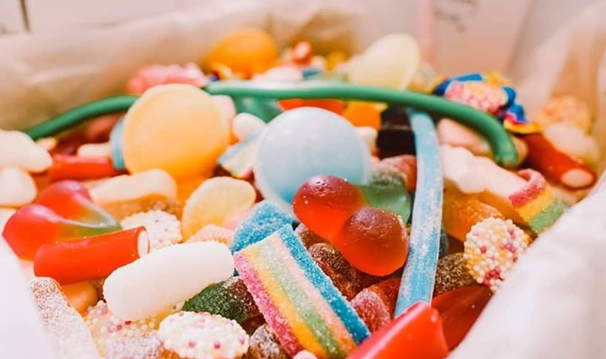 To me and half of the Middle Eastern and Asian population halva is a sweet pudding. I was going to say semolina based, but it is also tahini based and even dhal and flour based in Northern India. Loosely based the halva is made by cooking the semolina with either butter or oil and a lot of sugar and water or milk and a different variety of dried fruit and nuts is used to add texture and flavourings such as rose water and orange blossoms are used frequently.
Pistachios, cashew nuts, goji berries, coconut, almonds, sultana, raisins, cardamom are just some of the flavours used in the Indian and Greek version of halva. For the middle Eastern tahini-based halva and flavours such as lemon and poppy seeds, chocolate, za'atar, pine nuts, sesame seeds and orange zest. Did I mention chocolate halva..OMG!! Persian halva is mainly saffron, and rosewater based. Israelis use honey as the basis for their halva. You get the idea; this is a worldwide dessert or sweet with so many variations of flavours all unique to their regions of origins.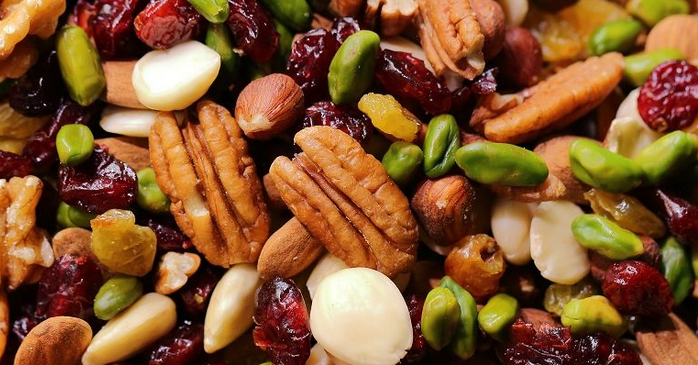 As I said earlier my focus will be on the Indian version of the halva as that is what I grew up with. I touched on the semolina halva, but we must not forget the carrot halva which is a hugely popular Indian sweet sold in many Indian sweet stores. It is slightly more time consuming than semolina halva, due to the peeling and grating of kilos of carrots, but once cooked in a milk and cream and using the traditional ghee, it is a truly amazing sweet. Again, there are many variations of the carrot halva as you can use sugar syrup, milk and even add paneer to give it a crumblier texture.
I also remember my mum making halva from chapati flour! Obviously if you've ran out of the main ingredient semolina, improvise! My favourite part of halva is not just in the eating of this gorgeous sweet but in the cooking of it. The smells of cooking semolina dry and adding the butter then sugar and water all increase the anticipation of eating this yummy sweet.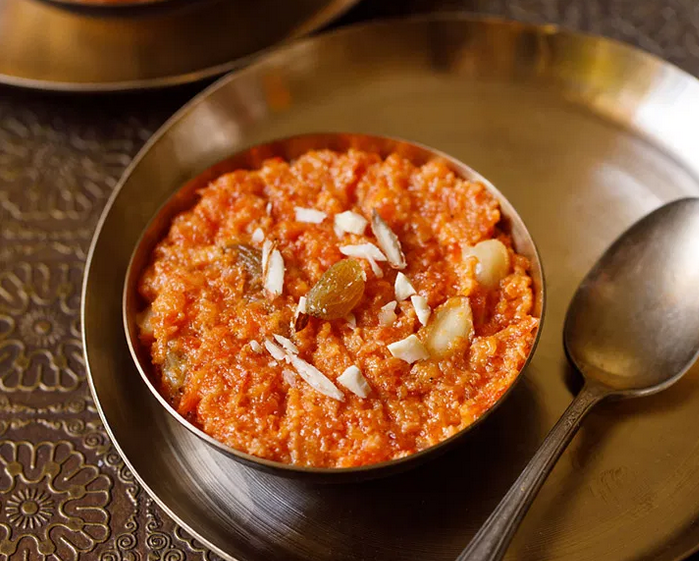 Halva is extremely high ranking in the Indian sweet collection. It is used on so many occasions, this is why it is sold in the Indian sweet store and is added to the matai collections used at weddings. It is cooked for celebrations for all occasions like Eid, quite common for khatams, even when you have guests around, or like me, just for me because I needed a sugar hit!
How to eat halva? You might think just grab a spoon, if it's the soft version, grab a slab of it's the firmer version, but no!! Make a parantha or if you are feeling more adventurous make pooris. Make it a meal. Traditionally halva paratha is eaten for breakfast by the farm workers who are out in the fields all day. As it is a very heavy dessert/ breakfast it is perfect for the long labour-intensive work of the farmers. It is also commonly made for sehri, or early morning breakfasts for those who are fasting especially in the month of Ramadhan. Again, using the same principles of it filling you up for the day.
My version of halva, is the way my mum made it years ago, using butter, oh and it had to be Anchor butter in our house! We prefer using ghee in halva and as I am not fussed on the shop bought halva we make our own using Anchor butter.
The ingredients list is from the live cook along video I did in lock down 1 last year. The video has been uploaded at the end of the blog. Enjoy!
Ingredients
Semolina 2 cup..coarse or fine
1.5 cup sugar
250-300g butter or ghee
5-6 cardamom pods or cardamom powder
Handful of any of the following
Sultanas
Coconut flakes
Ground or flaked almonds
Pistachios chopped
Glace cherries..optional
Kettle of hot water
Khewra water
Rose water
Method
I would have all of the ingredients ready to hand as you need to focus on the semolina once you start cooking.
Boil a kettle of water
In a wide based pan add the semolina and dry cook it for 5-10 mins on a low heat until you can see the semolina change colour slightly and smell it cooking. Once you do this a few times you can control how light or dark you wish your halva to be.
Add the butter or ghee cut up in cubes and stir through.
Add the sugar, cardamon seeds and any dried fruit or nut you chose to use.
Gradually add the water, slowly, remain focused as the water will splutter and it will be thick so you will need to keep stirring the pan.
I would watch the video to get the idea first.
Keep cooking until the halva comes away from the sides of the pan.
Add a few splashes of kewra water if using and rose water.
The list of ingredients is for the recipes also done in the cook along live with the halva
Lamb and pepper curry
1 kg lamb leg or shoulder cubed..
3 medium onions
4-5cloves
3-4bayleaf
1-2 cinnamon sticks
1 tomato tin 400g
1 inch ginger, peeled
1 bulb garlic, peeled..chopped
1 tbsp salt
1/2 tsp chilli powder
1 tsp turmeric
1 tsp curry powder
1 tsp garam masala
Oil or butter or ghee
2 mixed peppers
1 tbsp whole garam masala ground
1/2 bunch coriander
Red kidney bean curry
300g-500g dried red kidney beans
3 onions, chopped
1 tin tomato
3-4 bayleaf
1-2 cinnamon stick
3-4 cloves
1 inch ginger peeled
1 tbsp salt
1/2 tsp chilli powder
1tsp turmeric
1tsp curry powder
1 tsp garam masala
1 bulb garlic, peeled
Oil butter or ghee
 tbsp whole garam masala ground
1/2 bunch fresh coriander
321 biscuits with royal icing
300g plain flour
200g butter
100g sugar
Flavouring if you want eg lemon or orange rind or chopped nuts
2 egg whites
500g icing sugar
1/2 lemon
Piping bags will be needed!!