This is classically the Indian version of the traditional roast chicken which is eaten most Sunday dinners as a very British tradition. But the tandoori chicken is something I grew up with and at first I would say more so for special occasions such as Eid and Ramadhan, but I do remember eating it as part of a main meal if we had guests around to eat.
My mother was a great cook and had a great possie of friends around her, and even to this day this close nit community keep an eye out for each other some 40-50years later. We grew up with their children, and just like myself my mums house was an open door when it came to feeding the masses.
The aunties would invite each other and husbands and children too, for a full-on meal and on these occasions the tandoori chicken or kebabs would be made, everyone with their own take on it.
What is the tandoori chicken and where did it originate?
It simply is marinating the chicken in various spices and yogurt and cooked in a tandoor! What is a tandoor and who has a tandoor at home?
The tandoor is traditionally a cylindrical oven made of clay or metal and fuelled by charcoal or wood. Simply a large vertical barbeque! We are a generation where we want every gadget under the sun in our kitchen and some have built tandoors in their back gardens.
According to historians the earliest evidence for dishes similar to the tandoori chicken can be found in the Harappan civilization and dates back to 300BC.
More recently it was attributed to a chef called Kutan in Peshawar who literally dug out a hole in the middle of his eatery and cooked the first tandoor-based chicken, this was before the partition of 1947. After the partition, the tandoori chicken became popular once a chef called Moti Mahal in Delhi served it to the Indian prime minister.
What makes the tandoori chicken so special?
Very few dishes are based on being marinated in yoghurt. The idea of yoghurt is to tenderise the meat, lemon or lime is also used as a traditional flavouring and again the acidity will break down the protein in the chicken.
The usual combination of spices for the tandoori paste would include ginger, garlic, coriander, cayenne pepper, cloves, cumin, cardamom, saffron and garam masala as well as tandoori colouring.
Traditionally the colour was produced from the annatto seed which gives a distinct orange colour also used in cheeses, but red and orange food colouring are used to give it that distinct red colour, but this has absolutely no effect on the flavour.
Most of us would have our favourite spice mix that would go in to the marinate, as this differs so much for each household the flavour of the tandoori chicken can also be very varied, but the principle of marinading in spices and yoghurt and cooking in a hot oven is the basic principles of the tandoori chicken.
At home I don't ever remember adding any colouring to our tandoori chicken, I'm sure this would have been encouraged by restauranteurs.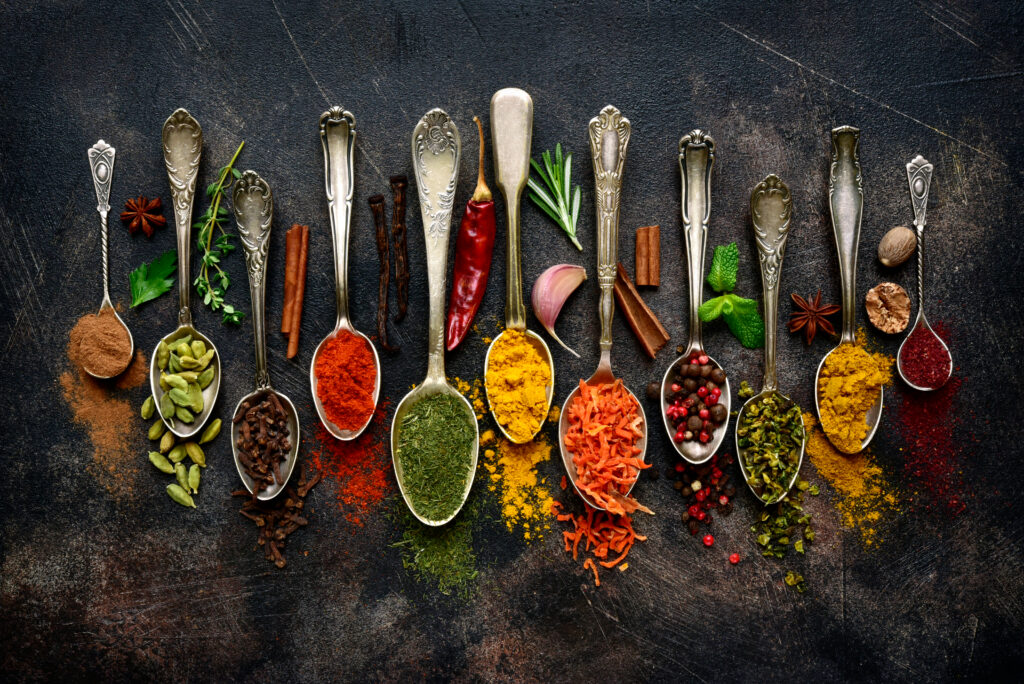 Pataks is one of the world leaders in spice mix established in 1957 and these are found in many Asian households to make things easier and as authentic as possible.
After browsing through the ingredients list of the tandoori paste produced by Pataks the list is very similar to the ingredients we would choose if making our tandoori paste from scratch. The only noticeable difference was the use of tamarind which would not normally be used in making the paste and going through historical research it seems one to try out as it was not on any lists, but that is maybe why we like Pataks so much!
Even when we were children, I remember using the tandoori spice jar and dry spice mix with yoghurt and seasoning and leaving the chicken overnight to marinade.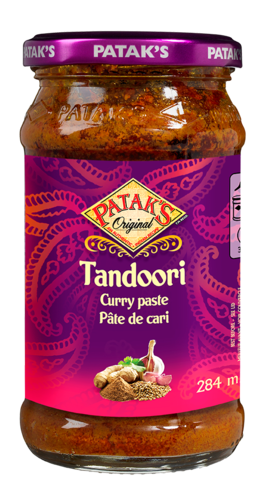 There have been more recent moves to brining the chicken before marinading. Various chefs have experimented with brining the chicken to make the chicken even more tender and succulent.
By simply covering the chicken, usually skin is removed, and either the whole chicken or just the thighs and legs are placed in a bowl and covered in water and 3-4 tbsp salt is added and left for a minimum of 3hrs.
The idea is to break down the protein in the chicken which when cooking will keep the chicken extremely moist. The water is then drained off and the tandoori spices and yoghurt is added to marinade and leave for a few hours or overnight before cooking in the tandoor or oven.
Other methods include the tawa or pan method of cooking the tandoori chicken with hot charcoals placed around the chicken and covered to smoke the chicken.
Recently I did the live cook along which included marinating the chicken in tandoori spices, against the traditions I opted to leave out yoghurt and use oil to seal the spices around the chicken and noticeably a few other chefs when doing my research have also moved away from the traditions.
The use of yoghurt and lemon to marinate the chicken is to break down the chicken protein which has already been done by the brining. By just simply adding the spices in oil, the result is a crispy chicken skin on the outside and a very tender moist and flavourful chicken meat inside.
I challenge you guys to try this method!!
Ingredients for tandoori chicken
I will be using 4 legs/thighs,but you can chose what you wish to use
Salt
Garlic/ginger paste
Turmeric
Kashmiri chilli powder
Curry powder
Garam masalas
Oil
Dried Methi
Carom seeds or ajwain
Plain yoghurt..optional
I also made these bean burgers and the battenburg cake in this video so have listed the ingredients below for these too!
Ingredients for bean burgers
1 can of canelloni beans drained
1 can of black eyed beans drained
1can of peas drained
1/2 can sweetcorn drained
1 can chilli beans semi drained
1 or 2 slices bread made into crumbs..i used end thick slice
1 red onion diced
1/2 punnet mushrooms or more finally diced
1/2 red pepper finely diced
200g cheddar or mozzarella cheese grated
4-5 garlic chopped finely
1 tsp salt
1 tsp black pepper
1/2 tsp cumin powder
1 tsp garlic powder
1tsp oregano
1 tsp smoked paprika
You can use a mix of any of your favourite beans!
Ingredients for the battenburg cake
350g marg
350g sugar
6 eggs
320g self raising flour
50g ground almond
Almond essence or any other flavours you choose
Pink colouring or any other of your choice
Jar of Apricot jam
2 pkts marzipan
This will easily make 2 slabs of battenburg cake..use 250g and 4 eggs if you have a smaller tin.