Not long ago I was in deep sleep and woke myself up in the middle of the night craving this simple dish Kitchuri. No! I am not expecting, this is not a pregnancy binge. This was me simply dreaming about food as I go to sleep and awake, this time obviously in my sleep!
So, I took the opportunity to recreate one of my favourite savoury treats on our weekly cook along! Yes! for my sins I had persuaded the other half to do our weekly live cooking show on Facebook in which we encourage everyone if they are either brave enough or as silly as me to literally cook along with me while my husband chats away and provides some form of entertainment. Well, that's the theory of it!!
Before we did go live with the Kitchuri cook along I decided to do a little research on the subject. I usually mixed up any leftover lentil curry with leftover boiled rice and mush it up. But I always added a few extra toppings giving a tip of the old cap to the Scottish version of Kedgeree. My favourite toppings are slices of soft-boiled eggs on top and a sprinkling of smoked mackerel. Delicious!!
Well, this was my midnight craving and we were cooking live with this technically relatively simple dish! And the research happened.
How many varieties of Kitcheri are out there? Well first of all I asked my gang, my Bengali girlfriends, the girls who own and run restaurants locally.  One of the girls described Kitchuri as a mix of chicken curry and rice, Nooooo!! It most definitely is a mix of rice and lentils or dhals!  Of course, everyone has their preference in the gang. Some like it thick, some like it runny, some with veg, some didn't like it and then there's me with the Anglo twist of smoked mackerel.
This dish does vary regionally in the Asian subcontinent.
The Bengali version is called Khichdi and is served on special occasions. Vegetables such as peas and carrots, I've even seen broccoli being added to the Kitchuri. Moong Dhal is the favoured dahal of choice and is used in equal parts to rice, then finished off with a tempering of spices using ghee is a must! Usually onions and garlic is not used and asafoetida or hing is traditionally used. Is is served with bajis like pakoras.
The Indians love Kitchuri as it is a main staple in the Ayuverdic medicine. This is an alternative medicine system with historical roots in the Indian subcontinent. They don't use onions or garlic, so Kitchuri is a perfect dish for their dietary system.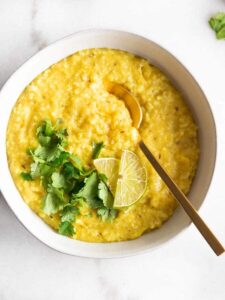 The Pakistani version seems to be a much drier version and has more rice than dhal, probably my favourite version!
Now to be even more controversial, did you know that Kedgeree the Scottish version originated from the Indian version of mixed lentils, rice and spices. When the dish travelled to the UK the lentils were omitted and rice was cooked with spices and smoked mackerel was added. It was a favourite of Queen Victoria and Florence Nightingale!
As you might have realised by now my absolute favourite is a combination of the Pakistani version, lentils and rice, with a mix of spices tempered in ghee and topped with the eggs and mackerel, in the cook along I also added spring onions and extra chillies on top, this added another dimension of heat and flavours!
The best bit about this dish is that every variety of this dish is correct. It can be thick, it can be gloopy, it can be runny, it can be plain, it can have vegetables, it can have a tarka and it most certainly can have smoked mackerel and eggs on it. All are correct, simples!!
Did I mention we do a weekly live cook along show on my page 'Fozia's Kashmiri Curry Kitchen' which we usually do on a Sunday afternoon? These are then uploaded onto our YouTube channel 'Curries and Cakes', but it is much more fun if you join In the live banter! We recently did make the Kitchuri, my way, with a very impressive apple pie, based on the Hairy Bikers recipe. Why not take time out with a cuppa and enjoy.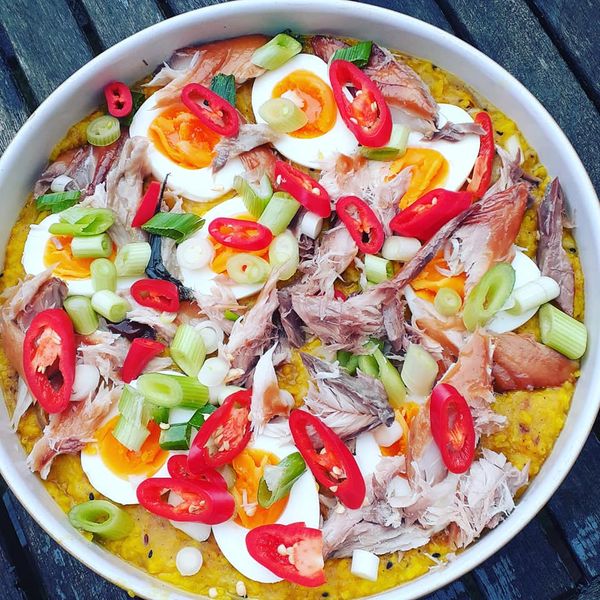 Kitchuri Ingrediants list – these are the elemets I used during the last live cook along.
There is soo many variations of Kitchuri..this is simply my take on it..it is an Anglo Indian version!!
1 small onion chopped
1 tbsp cumin seeds
Nigella seeds or mustard seeds
1tbsp asotefida..optional as we are using garlic too
1 tsp chili powder
1 tbsp salt
1 tbsp turmeric
A few bayleaf
2 inch ginger
1 cup basmati rice washed
1 cup of lentil OR 1/2 cup lentil and1/2 cup split moong daal. Washed
1 bulb garlic peeled choppped
Oil or ghee
Optional extras for topping
4-5 eggs
Smoked mackerel or haddock
Spring onions
Red chillies
Ginger
Fresh coriander
Optional extra 2
Handful of peas..broccoli or cauliflower….
 Follow this Method
if using lentils, skip this step, otherwise just wash and rinse the lentils and rice. In a large frying pan dry cook the moong dhal slowly until they change colour slightly. Wash the rice and add the cooked moong dhal to the rice and soak for 10-20mins.
In a medium sized pan add the rice and dhal, 1tbsp salt and 1 tsp turmeric and 4 cups of water. Cook on medium heat and stir regularly until the dhal and rice is cooked. You may need to add a cup or two of water depending on the consistency that you prefer, if you like it thick use less water and if runny then add more water, but ensure that the dhal is cooked.
In the frying pan, now add 1 tbps cumin seeds and either mustard or nigella seeds, depending on which you prefer. Let them 'pop' then add the ghee and onions if using and saute.
Add garlic and ginger, or asetoefida or hing if not using garlic and cook through. Add 3 or 4 whole dried chillies, stir through.
Add the tarka to the dhal once it has cooked through. If using veg, most people pre cook them beforehand and add at the end to the Kitchuri.
I prefer using eggs and smoked mackerel which I put over the kitchuri once in it's serving dish. To finish off add the spring onions and fresh red chillies if you like extra heat!!